Shell Construction
Masonry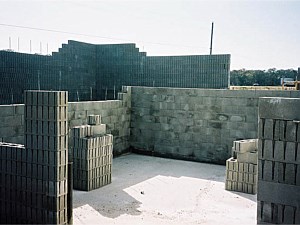 Masonry is one of the oldest, most established building techniques. Evolutions in materials, mix designs, and engineering allow for the construction today of even stronger masonry buildings - structures that will last for generations.
Aesthetic Variety
Concrete masonry units are available in a rainbow of colors, textures, shapes, and sizes offering building designers the chance to create structural walls that are also beautiful.
Architectural concrete masonry units offer a natural appearance that is striking in urban applications and blends in with the natural beauty of rural areas. This process has the ability to complement the building's surrounding environment.
Safety and Durability
When it comes to fire resistance, masonry is a true performer, offering excellent protection from fire damage. In fact, post-9/11 research performed on a building in close proximity to the World Trade Center showed that masonry absorbed much of the debris' impact and helped save the structure from collapsing.
Sustainability
As with other concrete wall systems, masonry creates walls with high thermal mass by minimizing temperature swings and shifting heating and cooling loads to off-peak hours. The resulting buildings are therefore more economical by lowering overall heating and cooling costs, whilst providing a consistently comfortable atmosphere for its inhabitants. Masonry also offers durability as well as sound attenuation, which all adds up to a more quiet, comfortable atmosphere.
Applications
Masonry lends itself to many commercial applications. The material has been used to create notable public buildings like churches, courthouses, and government offices. Educational structures, from elementary schools to Ivy League university facilities, can balance contemporary engineering with traditional design, offering myriad possibilities that will stand the test of time.